http://www.dnaindia.com/money/report-policy-watch-centrally-sponsored-schemes-generosity-with-other-people-s-money-1973652
Centrally Sponsored Schemes (CSS) –  politics and obfuscation
Monday, 31 March 2014 – 7:40am IST | Place: Mumbai | Agency: DNA
On 25 July, 2013, the Planning Commission called a meeting of all states to reduce the total number of Centrally Sponsored Schemes (CSS) from 142 to 66 for the 12th Five Year Plan.
Privately, most economists chuckled. They recalled how, on the basis of the recommendations of a report by an expert group in 2006, CSS were to be reduced to 82. But in reality, 59 new schemes came up (see table 1).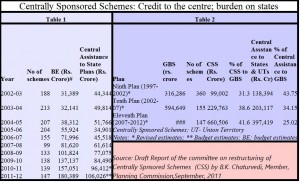 Moreover, while the total number of schemes did decline compared to 2003, the share of CSS as part of the gross budgetary support (GBS) has continued to drop (see table 2). The total allocation for the 12th Five Year Plan is still not known, but if past indications are anything to go by, and the reckless squandering of funds by UPA-II government, the budgetary outlay could be cripplingly large.
But what comprises CSS? They are schemes that are implemented by a state government, but are largely funded by the central government with a defined state government share. Some key examples of such schemes are Mahatma Gandhi National Rural Employment Guarantee Act (NREGA), Pradhan Mantri Gram Sadak Yojana (PMGSY) for rural roads, Sarva Shiksha Abhiyaan (SSA) for school education, and National Rural Health Management (NHRM) which collectively account for a large share of the GBS (41.6%).
States don't like this. This is because, as BK Chaturvedi, member of the Planning Commission, pointed out in Sept 2011 in his report on the restructuring of the CSS(http://planning commission.nic.in/reports/genrep/css/rep_css1710.pdf), "at the commencement of the 2nd Five Year Plan, majority of the schemes for which funds were provided in the Central sector and were implemented by the states outside their plan, were transferred to the state and included in the state plans". Thereafter, the centre created the schemes, and left more of the financing to the states, without giving the states that much more money.
Some chief ministers, notably those from Andhra Pradesh, Punjab and Tamil Nadu wanted the CSS scrapped altogether. CSS encroached on the powers of states on the one hand, and provided states with limited resources to finance such schemes. Most gallingly, the UPA was trying the take credit for what the states had already been doing, yet making states more dependent on the centre for additional funds.
The new government will have to look at these issues very carefully. This is because CSS corrode the federal structure of the Constitution. They provide the centre with the excuse to become more generous with the common taxpayer's money.
But, most unfortunately, as pointed out by a former prime minister – that barely 17 paisa of every rupee actually reaches the desired beneficiary — these schemes actually benefit the privileged and the powerful.
They become another opportunity at making money, not improving livelihoods.