http://www.dnaindia.com/money/report-policy-watch-overseas-medicare-for-bureaucrats-a-terrible-retrograde-decision-1971679
IAS officials to get 'classified' health benefits
In September 2013, the government of India stunned most common people with the announcement that the top officials of the Indian Administrative Service, the Indian Police Services and Indian Forest Service – and their family members — could henceforth avail of medical treatment abroad at government expense. This largesse is meant to benefit some 10,500 top-ranking bureaucrats. This decision is obnoxious on three counts.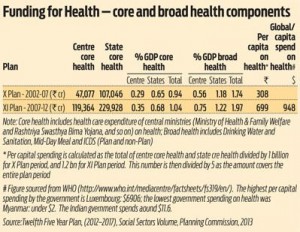 First, it is like a sop to the top cadres of government just before elections. It is akin to a discriminatory bestowing of largesse to key policy-makers which could be used to weaken impartial judgment.
Second, such a decision actually encourages these policy-makers to lose interest in the up gradation of health services in India, as they and their dear ones can now be treated overseas at government expense. They now have less of their own skin in the Indian game. Henceforth they can survive any health-related crisis even if health services within India were to collapse.
Third, it is likely to impose a huge financial burden on India, as it is bound to be copied by state governments as well, and then get extended to legislators, judges, corporators, each claiming that he or she too had a right to this (unfortunate) privilege. But most of all, it can make a mockery of all efforts to make the "right to health" the next key policy debate.
Not that India's spending on health is anything much to write home about (see table). India's per capita spending on health care is among the lowest in the world. At under $12 it is considerably lower than Luxembourg, or even the world average, though higher than Myanmar. According to the World Health Organization (WHO), India's total per capita expenditure on health (both public and private) was just $141 in 2011, and the total expenditure on health stood at just 3.9% of GDP. The world average expenditure per capita was $948 in that year.
Clearly, the government has failed to live up to its role as a provider of decent healthcare, even though its hospitals are believed to have been granted huge amounts of money annually to meet both recurring and capital expenses. A visit to any government or municipal hospital as a common citizen – without using influence or privilege –will confirm how harrowing access to medicare in India can be (http://www.dnaindia.com/india/report-opds-in-kem-sion-jj-are-in-a-shambles-1971203).
But then, it is also true that ministers and bureaucrats were always beneficiaries of better healthcare than the common masses. During the first three decades after independence, the privileged were allowed to grab on a priority basis private and semi-private rooms in government
Then as private hospitals came up (as charitable, medical research centers) the government began demanding that its ministers and senior bureaucrats get accommodated in the "free and subsidized" categories of such hospitals as well. The private and semi-private rooms in government hospitals were often given to other less privileged members of the government but such concessions have not been as corrosive as the new dispensation is likely to be. At the very least, the older concessions allowed better Medicare facilities to come up in India. The new provision allows the Indian government to actually use Indian taxpayers' money to finance the cost of Medicare, and to pay the salaries of health care professionals, overseas. Had the right policies been introduced in India, such sums would have added to India's wealth – in terms of revenue, in terms of creating better medical facilities, and creating better opportunities for its own Medicare professionals.
Unable and unwilling to do more for upgrading Medicare in India, the government provision actually sabotages India's efforts to become a destination for the best Medicare facilities in the world. It will probably take a public interest litigation to draw the attention of the courts to the long-term adverse effects that this decision will have on the country.
For original article, click here