http://www.freepressjournal.in/analysis/rn-bhaskar-the-war-over-e-payments-and-digitisation/1062135
Policy watch
The Watal report: The war over epayments and digitisation
Rn bhaskar
There is a unspoken of war within the government.  Everybody wants to take charge of epayments and digitisation. But none wants to take up owning responsibility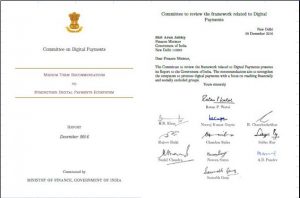 Look at the facts.  Even after demonetisation was announced on 8 November 2016, and the rollout of digitisation was announced, there is no regulator for this sector.  There are no clear rules of business either.
Thus you have at least three big areas of regulatory vacuum that currently exist. Each of these has the potential of defrauding potential customers.
The use of protocols. Ever since ICICI Bank refused to allow transactions through PhonePE, everyone in the banking sector is aware of the urgent need to define protocols that can be used for epayments.  The rules of engagement between private players (like PayTM, PayU, PhonePE, Rupay, VISA and Mastercard, among many others), and the banks where businesses and individuals park their money have not yet been clearly defined. This can lead to big scams and misuse of epayment gateways for private profit through thievery.
There are major grey areas. There are loopholes which allow a merchant to collect money from customers, but allow transaction charges to be collected separately from them. Thus, service/transaction charges do not get reflected on a merchant's receipt.  Since the transaction charge/service fee is not on the receipt, it cannot be audited by the merchant's internal auditors.  This allows a third party to collect the service fees which it can then share with 'thieves' and the colluding bank. This is what is happening with even government owned entities like the Brihanmumbai Mumbai Corporation(BMC). There are good reasons to believe that some IT professionals may also be playing with the scripting behind the web page because the gateway clicked is not the gateway through (or to) which the payment has been made (http://www.asiaconverge.com/2017/04/mcgm-epayments-point-to-dangers-of-epayment/ ).Since BMC has an annual budget of Rs.25,000 –Rs.30,000 crore, even a 1% skimming would amount to a scam of around Rs.300 crore. Multiply this several times to account for innumerable municipalities and quasi government agencies, and you have a scam potential of over Rs.1,000 crore year after year.
Then there is the problem of protecting customers. The government has been promoting the BHIM (Bharat Interface for Money) app for epayments through mobile phones. But unknown to many, the creator of BHIM is NPCI (National Payments Corporation of India).  And NPCI claims (http://www.moneylife.in/article/bhim-upi-npci-says-it-wonrsquot-be-responsible-for-loss-or-fraud-user-fully-takes-the-risk/50270.html) that any misuse of BHIM are the user's responsibility.  NPCI refuses to take up the liability. This is despite the UPI app causing a loss of Rs.25 crore to Bank of Maharashtra (http://www.moneylife.in/article/upi-bug-costs-bank-of-maharashtra-about-rs25-crore/50129.html). This a departure from the practices adopted by Master and VISA.
Clearly, a regulator for epayment is sorely needed .  But then you have the government quietly slipping through a legislation in mid-February which delegated the entire responsibility of epayments to the Ministry of Electronics and Information Technology (Meity) (http://www.asiaconverge.com/2017/02/epayments-the-rbithe-cabinet-secretary-and-the-govt/).  Since epayments is a banking function, shouldn't it have been with the finance ministry? How can Meity regulate banks and financial intermediaries?
As a result, nobody knows who is responsible. The RBI? The Finance Ministry? Or Meity? Thus, no legislation for specifying the rules of business for regulating epayments has been introduced.  It is the perfect example of the government placing the cart before the horse. Or is this the consequence of a turf war that is going on between the ministries of finance and Information Technology?
Finally, there is a group in the government that wants to abolish merchant discount rates (MDR) altogether.  This group wants Aadhar to become the basis for all epayments. And payment to financial intermediaries will be made by the government because, after all, the government is the biggest beneficiary of digitisation and epayment. Epayment is what helps the government identify tax defaulters. Moreover, the meta data generated can be used for planning future businesses and strategies. But there is another group which wants MDR to continue, allowing for a degree of market competition.
It was to address all these issues that the government appointed the Ratan P Watal committee to frame Medium Term Recommendations to strengthen Digital Payments Ecosystem. The report was submitted to the government on 9 December, 2016.  It outlined a step-by-step approach on how the above conflicts could be avoided.  And it listed out rules that ought to be put into place, and laws that needed to be amended (the Excerpted recommendations and timelines can be downloaded from 2016-12_Watal-Committee-recommendations and 2016-12_Digital-payments-watal_report-timelines).  The report itself can be downloaded from http://finmin.nic.in/reports/watal_report271216.pdf. The report's first stage recommendations were to be implemented within two months – that is by February 2017.  We are already into April with nothing being done on this front.
So is the government actually promoting scams? Or, has it forgotten its commitment to good governance? Either way, it is the common helpless citizen who will pay the price.  He will either be defrauded.  Or he will suffer heartburn on account of glitches in epayments.
Not a good way to promote digital India, wot?
The author is consulting editor with FPJ