http://www.freepressjournal.in/india/israel-and-india-can-do-so-much-more-together/1162752
RN Bhaskar — — Nov 01, 2017 12:12 am
Israel and India share common concerns
Michael Bornstein Oren (born May 20, 1955) is an American-born Israeli historian, author, politician, former ambassador to the United States (2009–2013), and current member of the Knesset and Deputy Minister in the Prime Minister's Office. He was in India recently, and was extremely optimistic about the growth potential of India-Israel ties.
R N Bhaskar of FPJ engaged with him over a telephonic conversation and sought out his views on some key issues.  Edited excerpts: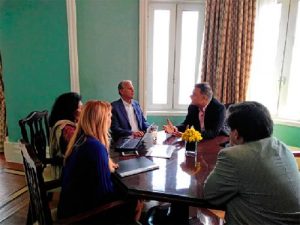 Q: How do you view India-Israel relationships, especially in view of the Indian Prime Minister Modi's visit to Israel?
Your Prime Minister's visit to Israel highlighted and underscored the fact that both countries are allies in the world today. Both have common concerns and have a cultural heritage that goes back to thousands of years. More importan-tly, both countries share a common vision of peace and growth.
Yes, relationships must be translated into cooperation at various levels.  We already have an excellent relationship in defence related matters. Now we believe that growth will come from non-defence related activities too.
Q: Can you put a figure to the growth that you envisage?
Non- defence related business between the two countries touched barely USD 5 billion last year. We hope to see this increase to at least USD 20 billion in four years' time.
Q: I believe Israel was quite upset with the Indian government's reluctance to allow foreign investors approach arbitration centres in other countries.  I believe Israel wanted to resolve this gap through the signing of a Free Trade agreement (FTA) with India. Has that happened there?
No, it hasn't till now. We had hoped that it would be signed when your Prime Minister visited Israel, but we continue to pursue it.  We are hopeful that the FTA will get signed soon.
Q: Which are the areas in India that you see Israel participating in?
Outside of defence, the two areas where we see enormous potential for both India and Israel are water and agriculture. We think we can offer India technologies which will enable it to utilise its water more effectively. We believe that with better management of water, India could not only conserve its water, but also increase its crop manifold.
But in trying to enhance crop production, both countries would like to see Israel introduce its smart agriculture techniques.  We have methods whereby –using technology – we could almost begin a conversation with each plant.  We can tell when a plant wants more water, or minerals, or salts.  We have identified and developed ways to listen to the needs of each plant and to address them. By adopting such technologies, India increases output even while using less water, less pesticides, less fertilisers.  So while you have increased agriculture on the one hand, you have reduced consumption of water and chemicals.  That in turn will reduce chemical intake, hence reduce India's import of such chemicals.
It will have a multiplier effect for India's food security concerns and its import bill.  It will also address the issue of farmer distress.
Q: One more area that you have been looking at is joint production of cinema.  Your country wants to improve ties with India's film industry.
Very true. We think we can give India's cinema the technology edge.  Plus we have locales that
we think Indian audiences would love to see.  We do want more Indian producers to shoot more films in Israel.
Q: But there is a problem of financial incentives that the Indian film industry wants. How will you address them?
You are right.  This was an issue most people talked to me about while I was in your country.
I promised them that I would return to Israel and try find a resolution to this concern of theirs.
I am happy to tell you that, yes, we have a go-ahead from the government to try match the incentives that other countries offer Indian film producers.
We are now in the process of identifying the right producers and beginning a dialogue with them. We see joint film production beneficial to both countries in many ways. The Indian industry gets financial concessions and incentives which help it reduce the cost of production. It gets an insight into technologies that Israel can offer. It gets new locations. For Israel it means telling an Indian audience that Israel is a place they must visit. It has so much to offer to tourists and businessmen—history scenic beauty, the Dead Sea and a lot more.
This is one industry that could further improve the ties between our two countries.