https://www.moneycontrol.com/news/business/comment-as-thailand-plans-maintenance-hub-for-planes-will-india-be-caught-napping-2541081.html
If India does not wake up, Thailand's MRO could trounce AIES
The announcement made many in India sit up. If the Thailand project were to gain traction, it could well stymie some of India's plans
RN Bhaskar – Apr 02, 2018 06:48 PM IST
Last fortnight, addressing a 1,000 strong audience, and an international media contingent of over a 100 people, Thailand's planners announced their country's grand plans to build an MRO.  The word MRO is the aviation industry's acronym for maintenance, repair and overhaul of aircraft.
The announcement made many in India sit up.  If the Thailand project were to gain traction, it could well stymie some of India's plans.  At the conference many observers felt that India could become a big player, but that it often lacked the project implementation discipline and the required foresight.  It remains to be seen whether this government does precisely what past governments were notoriously famous for doing — sleeping after announcing a grandiose project.
Three drivers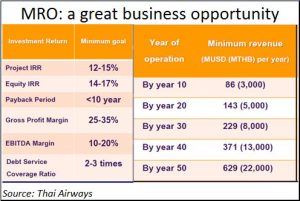 The MRO business can be immensely profitable, as figures revealed by Thai Airways show (see chart). But to make the MRO business vibrant, one has to bear in mind that success depends on three factors.
The first – which is actually a pre-requisite – is an adherence to very strict quality norms because nobody wants to risk an accident with an aircraft.  The vessels are expensive, and the travelers usually middle or upper middle class, even the wealthy and powerful.
The second has to do with commercials – the price at which a service can be offered.  That is why an MRO facility at an airport which does not get enough aircraft will always turn out to be more expensive than one located at a busy airport.
But the second also has inbuilt into it the third factor – namely turnaround time, the time within which an aircraft can be certified as being fit to fly. Turnaround time is crucially important because each day's delay could mean a loss of potential income and sometimes a lease rental  cost upwards of $10,000 a day.
OEMs call the shots
To get into the business, one has to be anointed by the original equipment manufacturers (OEMs).  This is because it is these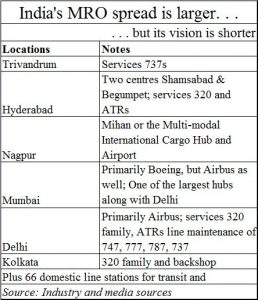 manufacturers – usually Airbus and Boeing, and the engine manufacturers, who decide how one of the parts is to be looked it, how it should be tested, and how it must be repaired.
Unless the OEMs agree, setting up an MRO is well nigh impossible.  India managed to set up its own MRO facilities (see chart) primarily because it was a large purchaser of aircraft, and the government decided to negotiate with the OEMs at the time of purchase itself that it would like to service the purchased aircraft in India itself. Thus, little by little, India got the capability of servicing, repairing and overhauling all types of aircraft – the full range of Boeings India has, the full range of Airbuses the country uses, and even turboprop (ATR aircraft).  In addition to this almost all chartered aircraft approach India's MROs to get their aircraft serviced and certified.
Certification
Certification is what drives this business.  To fly an aircraft, someone has to certify it as being airworthy.  That requires adherence to standards, and a full inspection of the aircraft.
To fly an aircraft in India or using India's airfields, the vessel must have DGCA (director general of civil aviation) certification.  But this certification is usually an endorsement of the certification guarantees provided by one of the other two certification agencies – FAA or Federal Aviation Administration, and EASA (European Aviation Safety Agency).  These certifiers in turn depend on the certification guarantees provided by the makers of landing gears, pneumatics, engines (usually Rolls-Royce, Pratt & Whitney and General Electric)..
Each licence to service any part costs money – first in getting a licence, and then in getting the staff trained through a certified agency.  Even setting up a test bay costs money.  To do an NDT (non-destructive testing) a certification from NABL is required.  Even that costs money. Ideally, the OEMs want to take up the MRO business for small purchasers themselves, then enter into a back-to-back relationship between customer, seller and the third party MRO agency.
But when someone – like Thailand, or India — wants to become an MRO player in this segment, it must be prepared to have the grit to deliver the highest standards of service, and have the deep pockets that such a business requires.  According to some experts, if India does not invest a further US$250 million in this business right away, it might see its business opportunity slip away from this country to either West Asia, Singapore or to newly emerging Thailand.
High investment costs but good returns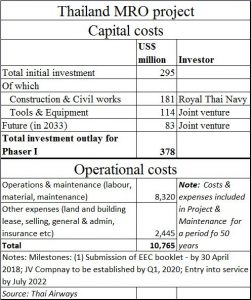 Even for Thailand, the going will not be easy.  It has to cough up around $295 million within the next two years.  Then it has to put up an additional $83 million within the next two years thereafter, bringing the total to around $400 million as capex alone.  This does not include the operational expenses which could also be quite high.  But if Thailand gets its act together, it could earn a gross profit margin of 25-35% each year, and achieve a payback of its investments in 10 years time.
India, say experts, could achieve its payback of US$250 million in less than 5 years.  But that is because, unlike Thailand, it has a larger fleet of aircraft – of various types.  Its largest MRO Air India Engineering Services (AIES) is already a formidable player in the country. According to some experts (http://aviationspaceindia.com/content/aviation-mro-india-opportunities-and-challenges), "India, with its growing aircraft fleet size, strategic location advantage, rich pool of engineering expertise, and lower labour costs has huge potential to be a global MRO hub."
Till recently, most private airlines used to get their MRO done overseas.  This was because the licence that AIES had was for its own aircraft only.  Moreover, since many of the private airlines had leased their aircraft, just the DGCA certification would not do.  They need to be certified by FAA or EASA.  AIES did not have the licence to do third-party MRO for such planes.  It began the process of getting such licences only two years ago. It services the entire fleet of Jet Airways and is in the process of getting the contract for Indigo as well. It is now eyeing bouncing back into the ring for MRO business, but only if it can make the required investments in time.
India's current MRO market size is estimated to well over US$750 million. As per Boeing itself, the market is expected to grow at 7% CAGR to reach US$ 1.2 billion by 2020. With the fleet size likely to double by 2020, the need for a strong domestic MRO industry is critical and not just desirable.
But the MRO activity is bound to be capital-intensive.  This is because each type of aircraft can involve thousands of components.  For instance, an aircraft engine can have more than 4,000 components.  Thus the MRO has a choice of either keeping an inventory of components, or the entire part itself.  For example it may keep a full landing gear, which can be fitted on to an aircraft, against a lease rental.  The aircraft is ready to fly within 4 days, and the defective piece can then be repaired.  The other alternative is to send the defective piece to a larger MRO (like Singapore) and then get a replacement from these.  But that takes time, and the turnaround gets affected, adding to costs.
To stock each component requires licensing agreements for them.  And training and manuals and testing software.  All of this costs money.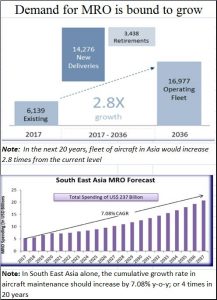 Thailand knows this. And that is why, hopeful that India will not get its act together in time, it wants to proceed with its MRO plans.
And India can slumber
The fact is that India loses MRO business (and foreign exchange) to overseas centres primarily because it has a great penchant for slumber.  Take for instance the ill-conceived Mihan project. It is an acronym for the Multimodal International Cargo Hub and Airport at Nagpur. Conceived of in 2008, it was supposed to be an international cargo hub and an MRO centre in partnership with Boeing.
Then the government forgot about it.  It was only when the present government came to power that the old files were dusted and the revival of MRO plans for Mihan were embarked upon. But it is unlikely that this centre will become a major centre, nothwithstanding its tieup with Boeing.
Conceptually itself the project was a disaster.  It was being set up without the rail-road-aircraft linkages in place.  Moreover, even after Nagpur was developed as an international airport, the volume of aircraft landings there was very small.  Many of the aircraft land in Mumbai and Delhi.  So it is but obvious that servicing aircraft in these cities will be more economical than flying them empty to Nagpur and back.
Today, Nagpur has an MRO facility, but it is limited compared to the bigger airports.  It will not become the most important MRO centre, even though the ruling party may want it that way.
To become a vibrant and cost-effective MRO centre, you need access to the airport, so that aircraft can be brought into the hangars and be taken out from there for their eventual flight.  They need to be close to airports where the maximum number of planes come in.  It is here that Mumbai and Delhi have an advantage over Thailand.  But then, its government likes to slumber till someone rudely wakes it up.
Huge benefits
Eventually, an MRO facility can create thousands of jobs for aerospace engineers and other professionals within a 10-year period. It helps save forex outgo. In fact, it earns forex in pretty large dollops. It would also fulfil the government's dream of Make in India.
A great MRO could position India as one of the hottest destinations for aircraft service, repair and certification.  Today's India's largest MRO can service only 25% of the jobs that are required.  To be a good MRO, it needs to cater to at least 50% of the requirements.
But as said before, it needs money, and quickly. Yes, it is profitable.  But it requires nimbleness and quality engineering skills.  And it needs good marketing, which the government is quite terrible at.  Remember the Antrix and the Devas episode (http://www.asiaconverge.com/2016/08/arbitration-awards-india-shaken/)?
That could explain why private players like GMR and Airworks have begun eyeing this business and have started nibbling at the fringes.  If AIES does not move quickly, the opportunity could be grabbed by someone else.