https://www.moneycontrol.com/news/environment/opinion-govt-must-not-look-the-other-way-at-these-rat-hole-mines-3351001.html
The Meghalaya mining disaster shows how the country has woken up again to the proliferation of illegal mines
RN Bhaskar — Jan 03, 2019
Even as this article is being written, rescue operations are underway to evacuate the 15 miners trapped inside a rat-hole mine in Meghalaya  The Indian Navy, Airforce and national disaster teams have been working round the clock to save lives.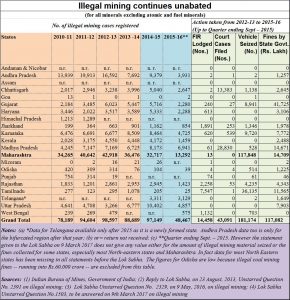 Belatedly, the government admits that the mine was illegal.  Initial reports had government spokesmen stating that it was yet to be ascertained whether the mine was legal.  The fact is that Meghalaya and some other North Eastern states have been known to engage in illegal mining for decades.  Everyone just looked the other way.  Even the Government of India, in its statements before the Lok Sabha, blithely stated that no reports of illegal mining have come in (see chart alongside).
This was despite photographic evidence dating back to before 2012 from AP photographers (later featured by Business Insider at https://www.businessinsider.com/photos-indias-illegal-coal-mines-2012-10?IR=T) showing the horrendous conditions of illegal miners.  It was only after the BBC began featuring social activists – who talked on camera about musclemen controlling these mining operations – that state leaders grudgingly began confessing to the existence of illegal mining in Meghalaya.
Even when the CBI began its investigations into the Saradha chit fund scandal in 2013, it had noted that almost Rs.1,000 crore had been invested in illegal mines in the North East.  Suddenly, all reports about investigations into this area of operations stopped. Obviously, the returns on such investments would have been extremely lucrative.
Media reports (particularly in https://indianexpress.com/article/north-east-india/meghalaya/meghalaya-mine-collapse-beyond-the-tragedy-for-states-politicians-mining-their-own-business-5514435/) have state legislators giving out lame excuses for the existence of such mines.  On record are the following:
Vincent H Pala, Lok Sabha MP from Shillong constituency, "I had 30-40 coal mines but I have stopped mining in them since the NGT ban" He is now demanding that the Meghalaya House regularises all illegal mines. Ahem!
Kyrmen Shylla, MLA, and cabinet minister in charge of, among others, the Disaster Management Department and the Social Welfare Department, " We had around 15 mines, and we abandoned them after the [NGT] ban."
Lakmen Rymbui, Cabinet Minister holding the environment and forest portfolios, "Yes, we had several mines — but that was before the ban."
Comingone Ymbon, Cabinet Minister holding PWD portfolio, "Our family had many mines but we stopped all mining in 2013, before the NGT ban came."
Logically, each of the illegal mine owners should be tried for attempted manslaughter and under the provisions that government illegal mining. In reality, nothing shall be done, because political compulsions, which include pardoning elected representative of the most callous of crimes, are always used as an excuse for dragging on investigations, and not penalising any powerful person.
The [clandestine bordering on brazen] political support for illegal mining can be easily ascertained from the Lok Sabha figures given above.
Note how, during the Congress rule, illegal mining became scandalous for politicians in Karnataka and Goa. Both states were ruled by the BJP then.  And this was despite the fact that illegal mining was more rampant in neighbouring Maharashtra (where Congress was in charge).
Look at the pathetic fines collected.  It appears that none of the vehicles impounded were ever auctioned.  States like Odisha are a good indicator of how high the fines should go (https://updateodisha.com/2017/08/02/supreme-court-imposes-100-fine-on-illegal-mining-in-odisha-54623/,
https://www.business-standard.com/article/economy-policy/odisha-govt-collects-rs-7-962-cr-penalty-from-mining-companies-117122900926_1.html and
https://timesofindia.indiatimes.com/india/sc-directs-companies-to-pay-rs-17576-cr-for-illegal-mining-in-odisha/articleshow/59885816.cms). Fines have ranged between Rs.8,000 crore and Rs.60,000 crore, some imposed by the Supreme Court.  Thus, even though illegal mining cases have been registered, most states have let off the culprits with very light fines and mere reprimands.
Even in the current case, the elected representatives have made these confessions only after they, along with others, were named in a Citizens' Report prepared by civil society groups in Meghalaya and submitted to the Supreme Court earlier this month by Colin Gonsalves the amicus curiae in the case. The report lists Pala, four ministers in the Conrad Sangma-led government and seven MLAs — alleging these men and/or their relatives are coal-mine owners.
Given the past record as can be seen from the table, and the efforts by successive governments to let illegal mining continue, India has had to pay for this in terms of lives of the poorest of citizens – the hapless miners who were working there – and sometimes even security persons (as in the Sukma massacre — http://www.asiaconverge.com/2017/04/sukma-killings-naxal-violence-illegal-mining/).
As  happens in most such cases, the powerful will most probably be left off.